Customer Reviews
02/20/2020
Ashley
United States
I recommend this product
Haven't met a seasoning I liked, UNTIL THIS ONE!
Seriously, this is the BEST SEASONING I HAVE EVER HAD! I'm normally a salt only kinda gal, simply because I don't usually find seasonings that I like. I've tried Traeger brand, homemade, store bought, you name it. This is the best flavor on the planet. IT IS TOTALLY UNIQUE without losing the basic salt flavor. This is a must for all red meat lovers and don't run out like I just did, you won't be happy!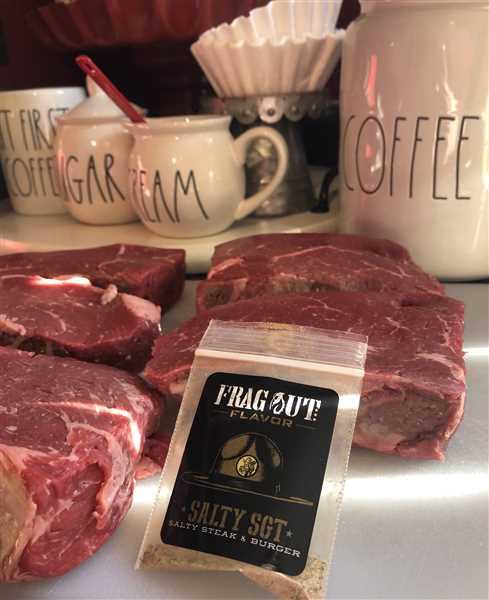 02/20/2020
Frag Out Flavor
Looks like you're almost out! That's okay - we've got plenty for a resupply :) Thanks for being a customer, Ashley!
02/05/2020
Jchit77 .
United States
I recommend this product
BEST seasoning in the history of seasonings!
A friend brought this over recently when we were grilling steaks. It was love at first bite. I couldn't stop raving about it so he left Jd with us. We are obsessed! We put this on everything from meat to eggs to fettuccine alfredo. It's perfect fir everything! If anything we're eating is bland or just, eh, we put a little of this on and suddenly it's delicious. I got worried about running out do I just did a google search (friend bought it locally at a bbq event) and thankfully discovered it's available online. I'll be buying this for Christmas gifts next year and for my family foreverrrrr! Thank you!
02/07/2020
Frag Out Flavor
"Love at first bite" - so true! Thanks for the review. As you've seen, it's available online but you may also have a dealer near you. Check out the dealer locator on our website. Enjoy!!
02/04/2020
Scott L.
United States
I recommend this product
Best Rubs out there
Always great to support veteran owned companies. This stuff is hands down some of the best rub I put on my meats. I have a lot of Frag out flavor rubs. Customer service is awesome. Ships out orders FAST!!!
02/04/2020
Frag Out Flavor
Hey Scott - thanks for supporting our business. We really enjoy having you as a loyal customer!
01/20/2020
John K.
United States
I recommend this product
One of the best
I was really a big fan of the bunker Buster steak and Wild game seasoning for doing my steaks but this one might just be better buy a little bit. I haven't used it on much other than steaks but wow it makes them taste phenomenal.
01/23/2020
Frag Out Flavor
Both such great blends! Hard to beat either of them. The Salty SGT does certainly shine when it comes to things like Sirloins and Rib Eyes. Thanks for supporting our business!
High Standards
All spices I've ordered are great and costumer service rep was great to work with. I don't leave reviews generally, but these guys earned it.
Pleasure to hear it. Thanks, Robert!