Pairs well with
Red Meat
Pork
Poultry
Veggies
All Use
Fruit
Seafood
Quality Ingredients. Quality Blends.
Quality Ingredients
For Quality Blends
Customer Reviews
Write a Review
Ask a Question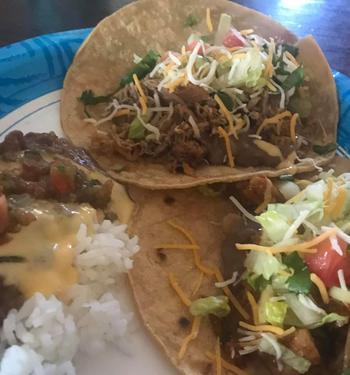 05/22/2020
I recommend this product
Super tasty!
I tried this at a friend's house a few months ago. It is super tasty. He made pork tacos. I am about to order some today. So excited to taste all the flavors!
Carla
United States
05/30/2020
Frag Out Flavor
That looks freaking awesome! Nice job, Carla. Thanks for the review and being a customer!!!
05/30/2020
I recommend this product
Makes OMG Chicken Thighs!
Tried this on some chicken thighs for Memorial day, Best spice I have ever rubbed on some thighs. Dropped another order the minute I saw Purple Heart back in stock.
07/09/2020
Frag Out Flavor
Thanks Jeff! Grateful to have you as a loyal customer. This is such a great blend. Try it in chili if you haven't already. It's amazing! Enjoy
05/04/2020
Medic!
This is the first time I have tried this rub and it is pretty good. I have only used it on pork chops but I plan on doing a smoked pork butt as I think it will be amazing!
Corey G.
United States
05/05/2020
Frag Out Flavor
This one is really good in chili as well! We had some customers win a local chili contest in their city using it as a Medic Chili. Pretty great stuff! Thank you for your business.
10/27/2019
Well f@#& me!
Just smoked chicken with this and totally blown away. Just the right amout of heat to it and the smell was enough to make you hungry as ****. So far every flavor I tried has been outstanding!
Blown away indeed! Glad to hear you've enjoyed them so much. Be sure to try this one on some acorn squash
06/11/2019
Thumbs up
This rub is great on chicken. It does have a little kick to it, but it is supposed to. A little bit of this stuff goes a long way.
It certainly doesn't take much to flavor a lot of food. Glad you enjoyed it. Thank you for your business!
02/03/2019
Good but salty
This has a great flavor and a little goes a long way. It's a bit more salty than the other blends I've tried, so try a little before you go full bore trying to coat an entire piece of meat.
12/03/2018
Simply great!
Awesome, what else can I say? Great company and great products!
06/24/2018
Very pleased
Very pleased with the flavor
06/21/2018
Delicious
I put it on pork steak and it is fantastic. Thanks Frag Out