Pairs well with
Pork
Poultry
Veggies
Seafood
Quality Ingredients. Quality Blends.
Quality Ingredients
For Quality Blends
Customer Reviews
Write a Review
Ask a Question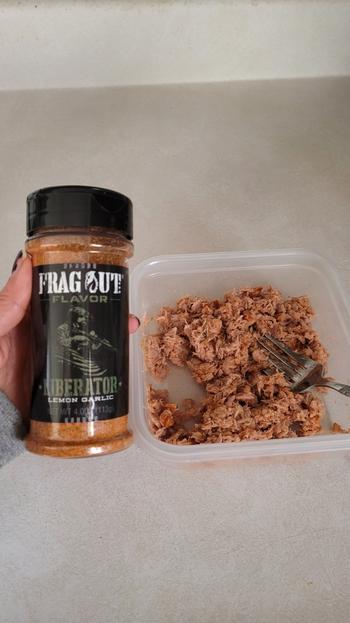 02/11/2021
I recommend this product
Oh WOW!
First, don't let the picture fool you. Just regular ole' flavorless tune, of which I'm not a fan. SO, I figured what better way to test out this seasoning than to try it on something like this. I didn't add anything else... and ya know what? I actually LIKED it! I was a little confused at first because... it's tuna. Took another bite and still thought the flavor was great and I wanted to keep eating. I'm honestly impressed. I will buy again and can't wait to try the other two seasonings. Thank you so much! I wonder if I can take this on the airplane with me next week?
Farrah

United States
03/06/2021
Frag Out Flavor
Thanks Farrah! Glad you've enjoyed it. Blue Line is also great in tuna. Good luck with the airplane :)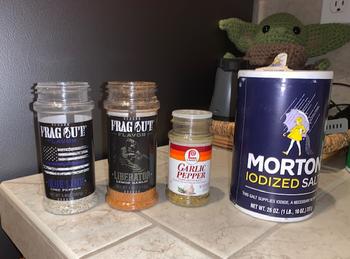 09/04/2020
I recommend this product
Wow, Lemon Garlic
Wow, Lemon Garlic, two of my favorite flavors. Mixed this with Blue Line, some Pepper/Garlic and Salt.... Used as my Brisket Rub.. Fantastic, the Lemon Lime hit the spot, Garlic and Pepper were perfect :-)
Bradley S.

United States
09/20/2020
Frag Out Flavor
Sounds incredible! We'll definitely have to give this a shot. If you love seafood, Liberator is excellent for preparing shrimp scampi. Also very good in guacamole. Thanks for your business!
04/01/2021
I recommend this product
Best seasoning I've tried
This is the best seasoning I've tried thus far. Really stands out. Great flavors, great customer service and, supporting veterans. 5/5 my go to seasoning for everything
Elgin C.

United States
03/26/2021
Ahhhh-mazing
I use this on my fish and shrimp, guacamole, and in my spaghetti. Love the flavor.
Heather B.

United States
03/15/2021
Perfectly zesty
This has a great amount of zestiness from the lemon and goes amazing on grilled fish. It is tangy and not at all spicy, the amount of lemon flavor is perfect.
Maegan T.

United States
01/30/2021
It won't last
My wife ordered an assortment of 6 and it just came in today so I had to give a few of them a try and let me say, it stepped dinner up to a new level. Used the lemon garlic on salmon, the hickory smoke on vegetables, and mango habanero on rice. I'm addicted and a customer for life. Next order is gonna have reaper in it. I also really like that it's veteran owned. As active duty, I try support as many Vet businesses as possible. Thank you for your service and the kick *** seasonings!! None of my seasonings are going to last very long so I'll have another order soon.
Zac

United States
03/06/2021
Frag Out Flavor
Thanks for your service, Zac! We really appreciate your business
01/23/2021
Great seasonings
Love the seasoning. My favorite is the fitty
Gary S.

United States
12/31/2020
THE BEST
I have tried a lot of lemon garlic products. Absolutely nothing compares to liberator. I don't know how they do this- but it's so good. perfect garlic/lemon ratio. i use it on chicken!
Taylor H.

United States
02/14/2021
Frag Out Flavor
Thanks Taylor! Grateful to have you as a Frag Out Fanatic. Enjoy!
12/20/2020
Awesome
I use this lemon garlic seasoning on my smoked wings. I made 5 pounds for a family event a few days ago and not a single one was left. If you love American and like to BBQ look no further than these guys for your seasoning.
Michael W.

United States
12/23/2020
Frag Out Flavor
Thank you for the recommendation, Michael! We really appreciate your business.