Pairs well with
Red Meat
Pork
Poultry
Seafood
Quality Ingredients. Quality Blends.
Quality Ingredients
For Quality Blends
Customer Reviews
Write a Review
Ask a Question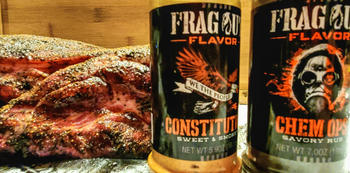 06/15/2021
I recommend this product
Wow..
I wasn't sure about this one until I tried it ...Holy freaking WOW ...Amazing mix of charcoal and sweetness ...One of my new favorits
raymond v.

United States
07/17/2021
Frag Out Flavor
This photo is awesome. Thanks for sharing!
06/26/2021
I recommend this product
Interesting and unique
Interesting and unique Flavor profile. Definitely different than a lot of the other blends you'll find out there. It'll certainly add what is that flavor to whatever you're cooking. I would highly recommend trying this
Brian R.

United States
05/26/2021
I recommend this product
Different, but great!
Tried this on venison chops. It was delicious!
Margit P.

United States
04/29/2021
Chem ops for the win
My new favorite. Goes great on so many things. The taste is really good.
John Y.

United States
05/07/2021
Frag Out Flavor
Thanks John! Glad you've enjoyed it. Thanks for being a loyal customer
04/19/2021
He loved it!
This was a "fun gift" for my son who is commissioning Chem Corp this spring. We both knew about the company - love what it represents - apparently the flavor is fabulous. I will be buying more for my use based on my son's recommendation.
Anonymous

United States
04/19/2021
Ordered 3
I ordered 3 chem ops. Just tried it on a pork roast. It is very tasty. I haven't tried one yet that I don't like.
Beverly W.

United States
05/07/2021
Frag Out Flavor
03/28/2021
Amazing flavor
Just got to try the new Chem ops seasoning. Grilled some chicken using it. It has a nice onion flavor and is kinda sweet. It kinda looks like sprinkling gun powder on your food but this flavor is definitely one of my favorites and I've tried all of them that are available. Also it's kid approved. Hopefully this will be a permanent offering because I will always want this flavor on hand.
Jason C.

United States
04/12/2021
Frag Out Flavor
Glad you like it, Jason! We wanted to give it that gun powder look to really make the label artwork pop. A tasty blend indeed! Thanks for your business
03/03/2021
Best Spices Ever
Ive never had spices of this quality ever. The new ChemOps Savory blend is THE BEST spice blend Ive ever put in my mouth. Knowing my delivery would be today, I stopped at the store for steak and chicken. My dad's eyes were as big as saucers when he tried the ChemOps steak. While everyone's palette is different, Im sure that almost everyone will love it, along with the rest of the blends. I cant say enough how satisfying these blends are but they are damn good.
Stephen N.

United States
03/06/2021
Frag Out Flavor
Glad you like it! We worked hard to bring that one to life. Enjoy!