Pairs well with
Red Meat
Pork
Poultry
Veggies
All Use
Quality Ingredients. Quality Blends.
Quality Ingredients
For Quality Blends
Customer Reviews
Write a Review
Ask a Question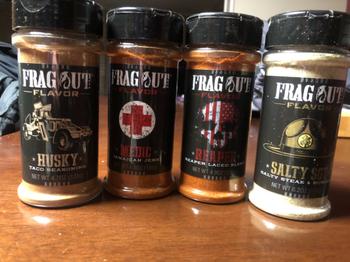 11/18/2020
I recommend this product
1st time buyer!
A friend of mine seen these on Facebook and bought them and she spoke highly about them so I decided to buy a few to see if the hype was real and it definitely is. Will be ordering more of the other flavors very soon! I used the Salty SGT in my spaghetti meat and you could sure taste it! Sooo good!
Dwayne

United States
12/22/2020
Frag Out Flavor
Hey Dwayne - Salty SGT spaghetti isn't super common but sounds incredible! It's also really good added to garlic toast, among tons of other things (try it in mashed potatoes sometime). Thank you for your business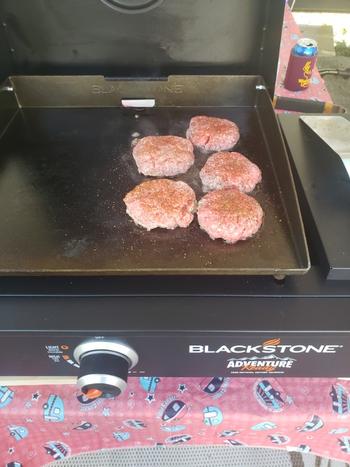 08/28/2020
Michael B.

United States
09/17/2020
Frag Out Flavor
Thanks for sharing! This blend is absolutely fantastic. Try pairing it with Blackout or Operator on steaks sometime. You'll love it!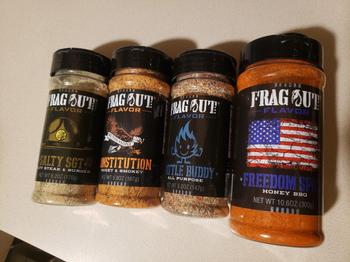 07/06/2020
Great spice
I use this spice on steak, burger, and some veggies like asparagus. It's fantastic!
David N.

United States
07/09/2020
Frag Out Flavor
Great pic! Thanks for sharing. We appreciate your business! By the way, try pairing Salty SGT and Blackout together on steaks sometime. You'll love it!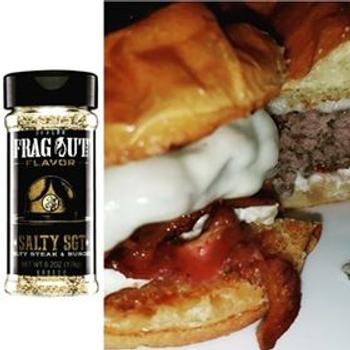 05/07/2020
Not a disappointing blend in the bunch
We have officially tried all of the flavors. Obviously there are some we like a little better then others, but they are all awesome. Our friends have their own favorites so keeping the whole line up is a must.
Janel b.

United States
05/21/2020
Frag Out Flavor
Thanks, Janel!! So glad to have you as loyal customers. Enjoy!!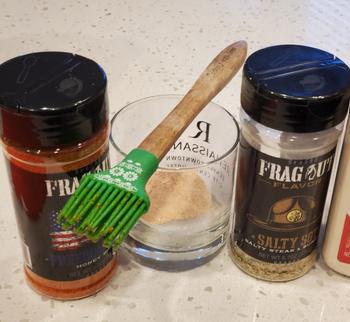 04/18/2020
Amazing Flavor
I LOVE these seasonings! SO great to have discovered these out at the Pride event in Denver. I was excited to be able to order our flavors again and add a new one. I use them on everything! Potatoes, Steak, eggs....everything!
Anonymous

United States
04/23/2020
Frag Out Flavor
We had fun this past summer at A Taste Of Colorado! Hope to see you there next year. Thank you for your business and for taking the time to share the review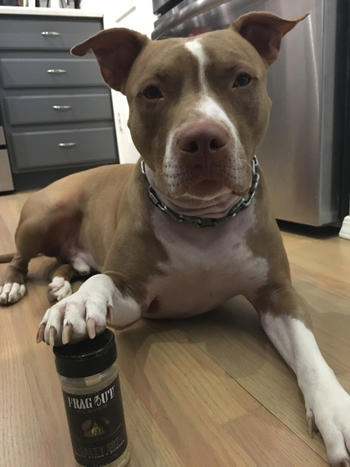 04/13/2020
Brag Out
We initially ordered another popular spices brand and had a terrible experience, it didn't come for 5 weeks, they were unresponsive, and the flavors were super bland, you need to use half the bottle to get any flavor out of it. Then I ordered from Frag Out. Not only did the spices come in just a couple days, the bottles were bigger, you don't need to use as much AND the flavor is AMAZING. We started out with Salty SGT and Battle Buddy. I guarantee you'll be thanking the flavor gods for getting the win with your dinner date. Will definitely be ordering more and giving up on that other flavor satan/***** spice company...
Tasha E.

United States
04/15/2020
Frag Out Flavor
Haha! Thanks for sharing! BRAG OUT indeed! We really appreciate your business and are happy to hear you've enjoyed them. Also a plus to see it's always canine approved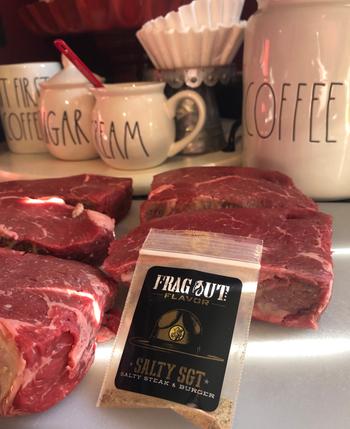 02/19/2020
Haven't met a seasoning I liked, UNTIL THIS ONE!
Seriously, this is the BEST SEASONING I HAVE EVER HAD! I'm normally a salt only kinda gal, simply because I don't usually find seasonings that I like. I've tried Traeger brand, homemade, store bought, you name it. This is the best flavor on the planet. IT IS TOTALLY UNIQUE without losing the basic salt flavor. This is a must for all red meat lovers and don't run out like I just did, you won't be happy!
Ashley

United States
02/20/2020
Frag Out Flavor
Looks like you're almost out! That's okay - we've got plenty for a resupply :) Thanks for being a customer, Ashley!
12/17/2020
Bam
Well my mom order me some of the spices I have been reading all the reviews for months thay are awesome spices I am relly picky about spices i have been a McCormick spices man all of my adult life. Then I said to my self there has to be other awesome spices out there and guess what there is I live in buckhannon wv I will be ordering more very soon
Mark .

United States
12/23/2020
Frag Out Flavor
Love hearing this, Mark! Glad you've enjoyed them. Hope you cooked her something awesome!
12/15/2020
One of my sons favorites
My son is the one who uses this the most but I also like using it on French fries.
Jeremy S.

United States
12/23/2020
Frag Out Flavor
Excellent on fries! Also really good in mashed potatoes and grilled veggies if you haven't tried those already. Thanks for your business, Jeremy!