Customer Reviews
02/10/2020
Kimberly F.
United States
I recommend this product
Amazing for wings
I was introduced to this brand a few months ago and love these spices. The combat canery is my favorite- it's an absolute must for wings!
02/11/2020
Frag Out Flavor
Thanks Kimberly! Glad you've enjoyed them
02/03/2020
Anonymous
United States
three thumbs up!
Just got this in about a week ago. I've used it on fried chicken, roast chicken, and on wings for the Super Bowl. All were excellent and got rave reviews.
02/04/2020
Frag Out Flavor
Thanks for the review! This one is a favorite for so many. We appreciate your business!
01/14/2020
David G.
United States
Great for poultry and pork!
Seriously adds a great flavor to grilled chicken and pork (chops, cutlets). Has a slight heat that comes on at the end. Highly recommend you try this one!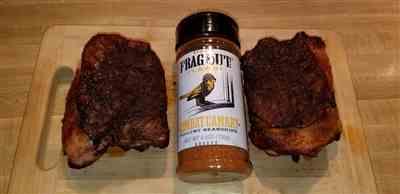 01/14/2020
Frag Out Flavor
Nailed it! That looks great, David. This one is great because if you stack it on you can certainly bring out a little bit of heat should it be desired. Thanks for your business!
Great stuff
I haven't tried it yet because my son has it hidden. He uses it on chicken and loves it. I might need to buy a second one for me.
Can't ever have too much of it on hand, that's for sure! Very glad to have you both as customers. We are looking forward to providing you with great flavors for years to come!
Spicy goodness
I use this on just about anything. I love the spice level! This one is probably my favorite.
Hey Andy, we appreciate your business! Glad to hear it's been so well received!