Pairs well with
Red Meat
Pork
Poultry
Seafood
Quality Ingredients. Quality Blends.
Quality Ingredients
For Quality Blends
Customer Reviews
95
reviewers would recommend this product
Write a Review
Ask a Question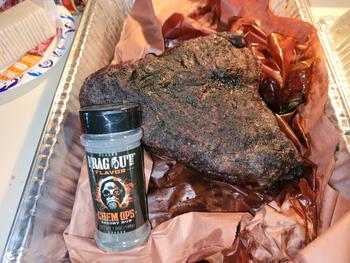 05/29/2022
I recommend this product
CHEM OPS is aptly named.
Like a weapons grade chemical attack the aromas from the grill and the roast/brisket resting place fill the house and the immediate vicinity with anticipatory feelings of heaven! The rub absorbs exceptionally well while setting at room temp in the hour standing before the cut hits the grill and gives that perfect charcoal bark look and crunch that is a hallmark of trophy winning pit-masters. All this and I'm a BEGGINER with brisket/roast AND smokers. Got my first pellet grill and will NEVER look back. My 1200 ci charcoal burner has been relegated to high price prep shelf next to the pellet burner. Just one bottle of this product was more than sufficient for four 3lb chuck roasts and a 5lb half brisket! That is ALOT of smoked meat for a family of 4!! Thanks for a WONDERFUL product FRAGOUT!! WOOT!!
Michael C.

United States
05/31/2022
Frag Out Flavor
Rave review; thank you!! We're glad we can help level up your BBQ (it looks amazing!!) Enjoy.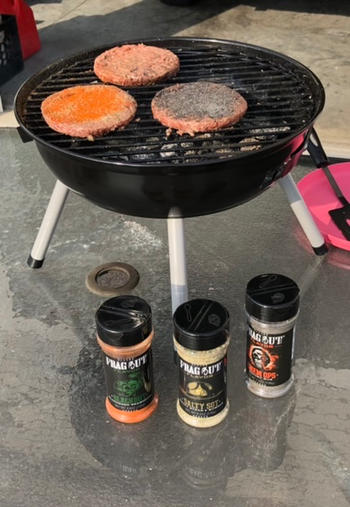 03/06/2022
I recommend this product
Delicious just like all the others.
It took me a while to try this one because unfortunately not long after it arrived my area had a pretty good snow storm with some strong winds that threw my grill across the yard and jacked up the vents pretty badly. Yesterday I finally decided to try this on a portable charcoal grill I have and once again the results were amazing. It's got just the right blend of sweetness and that great flavor you get from cooking with charcoal.
Michael B.

United States
03/08/2022
Frag Out Flavor
We're sorry about the grill, but glad the portable one could pinch hit for you! We're glad you enjoyed Chem Ops- it's also great on meats added to stir fry!
11/22/2021
I recommend this product
Absolutely amazing
Used a bottle of Chem Ops on my brisket this week. Absolutely fantastic. If I could buy this in bulk I would. Can't go wrong with this!!!
Seth A.

United States
01/27/2022
Frag Out Flavor
That looks incredible!! We recommend signing up for auto ship so you never run out of your favorite blend!!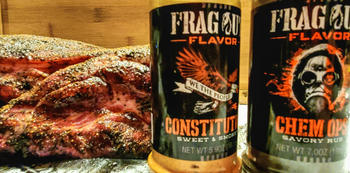 06/15/2021
I recommend this product
Wow..
I wasn't sure about this one until I tried it ...Holy freaking WOW ...Amazing mix of charcoal and sweetness ...One of my new favorits
raymond v.

United States
07/17/2021
Frag Out Flavor
This photo is awesome. Thanks for sharing!
06/29/2022
I recommend this product
Awesome!
I love this rub. The color gray kind of throws me for a loop but it is amazing! I've only tried it on pork chops so far it gave them a nice smoky flavor! Highly recommended
Alissa

United States
06/29/2022
Frag Out Flavor
Activated charcoal to mimic gunpowder! It's great on pork (or beef!) and also fantastic with Asian inspired dishes, since it has notes of ginger!
05/17/2022
I recommend this product
Delicious!
When you bite into the ribs and you can't decipher between the juices or your drool from the flavor, that's when you know you put the right rub on!!!
Adam W.

United States
05/19/2022
Frag Out Flavor
Sounds like a perfect meal to us!
04/18/2022
Delicious!
So far this seasoning tastes great on everything!
Anonymous

United States
04/09/2022
Terina E.

United States
03/28/2022
I recommend this product
Chem Ops became a household favorite
Don't let the dark color fool you, this is one fantastic blend. It has been great on chicken, vegetables, steak, pasta, fish...we have yet to find something it doesn't go well with!
Paul B.

United States