Quality Ingredients. Quality Blends.
Quality Ingredients
For Quality Blends
Customer Reviews
Write a Review
Ask a Question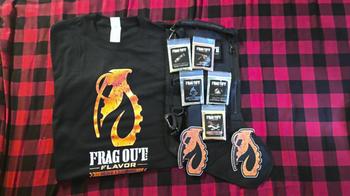 09/18/2020
I recommend this product
tactical stocking
this thing is awesome so many places to put stuff can't wait to fill it for Christmas!!!!!!!!
Jason W.
United States
10/06/2020
Frag Out Flavor
Great photo! Thank you for sharing, Jason. More importantly, thank you for your business. Whoever you give this to on Christmas is going to be very happy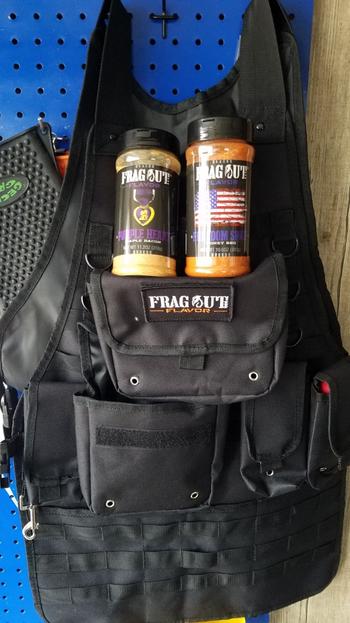 01/27/2020
I recommend this product
Cool little toy
Let's be honest, nobody NEEDS a tactical stocking. Especially for BBQ. But its a cool little toy to have. It has an actual handle to carry it. Very well made. And you can actually use it to carry a few utensils and favorite Frag Out Flavor spices. Plus it looks awesome when I'm wearing my Tactical Apron. I bought 2, one for utensils, the other for spices. Very happy I got them.
Dominic R.
United States
01/29/2020
Frag Out Flavor
Right on man! They're pretty cool for sure. Love how you've got that apron hanging up. They're cool to use in general as well like tools in the back of a truck/jeep, etc. Just a fun toy to have. Thanks for the review!
09/28/2020
Stocking
Very nice bigger than I thought it was going to be
Charles B.
United States
10/21/2020
Frag Out Flavor
These are freaking awesome. Don't forget to share a pic of it with us this Christmas! Thanks for your business
06/24/2020
Stocking
These are awesome
Anonymous
United States
07/03/2020
Frag Out Flavor
Thanks! We appreciate your business
04/16/2020
Reaper gets it right
I have tried the Reaper on steak and chicken. This is absolutely the best I've ever used. 5 stars for sure! Keep it up guys
JEB W.
United States
04/23/2020
Frag Out Flavor
Thanks Jeb! Try that one in chili, on chips, and smoked Ribs next
02/01/2020
Awesome product/idea
Came quickly and quality is A+
vernon h.
United States
02/01/2020
Frag Out Flavor
Thanks for reviewing! We're glad you are happy
01/07/2020
A cool gift idea
We bought the tactical stocking as a Christmas gift for my sister-in-law and her husband who are active grillers / barbecuers in North Carolina. They loved it and already hung it one of the hooks on their grill outside.
Brian K.
United States
01/07/2020
Frag Out Flavor
Great Christmas gift! We appreciate your business
01/07/2020
Anonymous
United States
01/07/2020
Frag Out Flavor